Mustard is holding its first-ever Virtual Clinic from April 25th through 30th. A year ago, the idea of virtual clinics would have seemed crazy, but now, it's second-nature for kids and young athletes all over the world to use online platforms for school, sports and socialization. By using this newfound method of engagement and adding in the Mustard technology, we at Mustard hope to reinvent the way clinics are done to make them more effective and efficient. But, each individual can only get out of the clinics what he or she puts in.
Mustard co-founder Jason Goldsmith is a globally recognized high performance coach who works with athletes in all sports, emphasizing the mental aspects that guide each person on an individualized journey to peak performance in high pressure environments. His client list includes PGA Tour No. 1s Jason Day and Justin Rose, Olympians, NBA, MLB, NFL, USTA and NCAA athletes, world-ranked juniors, amateurs, Fortune 500 executives and business professionals. Here, Jason shares tips for getting the most out of the Mustard Virtual Clinic that can also be applied to in-person practices, classes and many other areas of your life.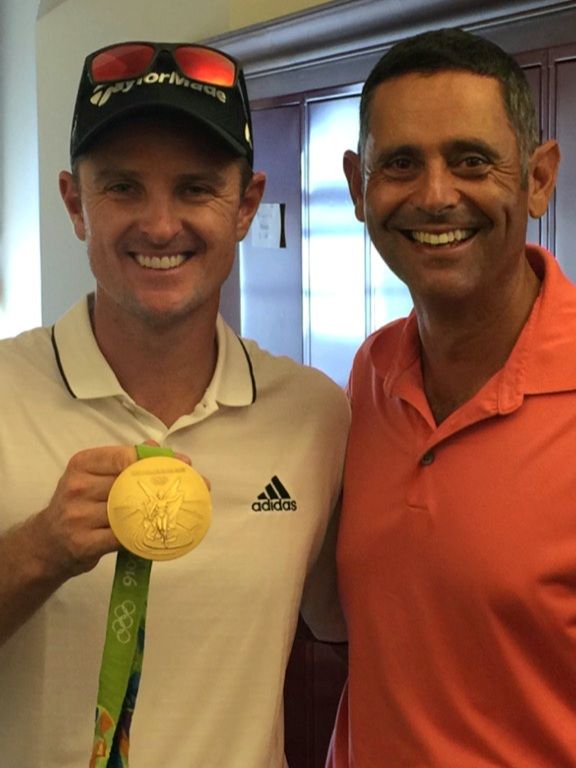 "Use your imagination. Kids are much better than adults at using their imaginations, which puts them in a unique position when they receive instruction. So, if you can imagine yourself doing things the way the coach describes during the virtual clinic, it will help you physically do it when you go out to practice after. When you imagine doing something, it creates a sensation in your body, and when you do the action later, you can compare the action sensation to the imagined sensation. Then, keep doing it until the feelings match up. This is how we learn. The better you get at imagining, at creating an image that creates a sensation, the better you get at learning without thinking about how to learn."
"Avoid comparing yourself to others. Comparison is a tricky thing. When you compare yourself to someone else, you engage the part of your brain that passes judgment, so you have to be careful to not become negative. You can't compare yourself to a superstar when you're 13, or even to another 13-year-old, because everyone is physically different. However, if you keep comparison playful and creative and approach it that way, it's actually a useful tool. You have to think, "OK, I'm not trying to be that guy, but he has really good mechanics. So I'm going to be me, doing it my way, in a way that's similar to that guy." He made his mechanics his own, and you can copy them in a way that helps your body learn to make them its own. When someone does something really well, what you're really trying to imitate is the flow of the movement, not necessarily each individual movement."
"Bring the right mindset to the virtual clinic. Be present and in a neutral place, without bringing any baggage from life to the clinic. Be open to the information and to on-boarding the information in a playful, creative and positive way. If you are cramming to get homework done, if you didn't do your chores, and you're sitting down to attend the clinic but your brain is elsewhere, it will make learning difficult. If possible, set aside five minutes before the clinic starts to go through some breathing exercises, center yourself and be present. I'd suggest going through your own personal highlight reel, just get your brain into an ideal learning state in which you are not anxious and not somewhere else, so you'll be able to focus and stay on task and not be distracted. Turn off your cell phone make sure all your TikTok notifications are off so you can pay attention to the instructors who will be helping you do the thing you need to do to fulfill your goals and dreams."
"Understand feedback is not criticism. Remember, if you were doing everything perfectly, or if you were to pass everything on the first try, there would be no room for growth. Every opportunity is a chance to get better. I tell all the people I work with, "Not yet." You may not be doing it yet, but what happens when you do? You'll move onto the next area where you can improve. And then you apply those things in a game, and something else changes and that becomes the "Not yet." Those are the road signs on the route toward mastery. Even the pros are still passing those road signs, because mastery is a journey, a destination at which you never arrive. And that's the right mindset to have. If you truly want to master a sport, you are on a journey to a destination you will never reach, because there will always be areas to improve. If you embrace that, you'll let go of the thought that you have to be perfect to have fun, which just isn't true."
---
If you'd like more great content from Mustard, and you'd like to evaluate and improve your own pitching mechanics, download the app today.